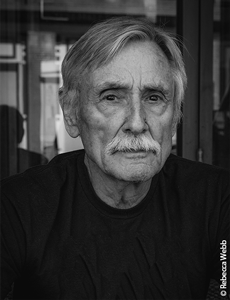 Michael Webb was born in Henley-on-Thames, England, in 1937. He studied architecture intermittently at the University of Westminster between the years 1953 and 1962. A project he designed during his fourth year found its way, owing to a curious set of circumstances, into Visionary Architecture, an exhibition held at the Museum of modern Art, New York in 1960. In 1961 he was invited by Peter Cook to be part of an assortment of young architects who referred to themselves as the Archigram group; they published a magazine with the same title. The group rebelled against what it saw as the failure of the architectural establishment in Britain to produce buildings reflecting the dynamic changes, both technological and social, the country was then undergoing.
Webb emigrated to the USA in 1965. As a professor of architecture, he taught for more than fifty years at institutions that include the Architectural Association, Columbia University, The Cooper Union, the New Jersey Institute of Technology, Pratt Institute, Rhode Island School of Design, and Virginia Tech.
In 2010 and 2011 he was a fellow at the Canadian Centre for Architecture. Webb has received grants from the New York State Council on the Arts and the Graham Foundation for Advanced Studies in the Fine Arts.